My nine year-old daughter is a beast on the track. She has trained with a venerable club in Durham, North Carolina for the last two years. Despite its inner-city membership, we love what it stands for: building character and discipline. The Durham Striders have consistently trained athletes who have won many medals and built a reputation of improving the lives of inner-city youth.
However, as a parent in the stands, I didn't fit in with the general school of thought in the group. For us, track was an avenue of discipline and focus for our child. She is a natural athlete and loves to compete; thus this outlet was just what she needed. It never occurred to us that this hot, sweaty, demanding torture was a means to an end, the end being an athletic scholarship.
Scholarships are great. I went to college with them. My older children received full academic scholarships. With the ridiculous cost of college tuition these days, there are far more families sending students to college with some form of financial aid than there are parents writing blank checks.
But my daughter didn't run for the money she might get down the road.
Unfortunately, many families of minorities believe the only way their children will be successful is if they play a sport and get a full ride to a big college or university.
Why? Is it because they know that inherently the schools their children have attended are not good enough and have not prepared their children well enough to pursue any profession?
Maybe the parents weren't educated and thus couldn't provide the academic support their children needed to do well in school.
It certainly seems clear that many "minority" groups including African-Americans and Hispanics (especially those with African ancestry) are gifted physiologically, with an inherent ability to excel in sports. A friend once told me that God knew what he was doing when he gave minorities their portion, because he knew what they would have to endure long before they did.
The other night I watched an interview on the local news with a former University of North Carolina employee, Mary Willingham, who has co-authored a book called Cheated: The UNC Scandal, the Education of Athletes and the Future of Big-time College Sports.
Can you tell who is in charge?
She blew my mind during the interview when she called the NCAA a "cartel" and likened them to a plantation, extorting the African-American athletes to help earn millions of dollars and thus paying for all the other sports at universities which generate less revenue, like lacrosse, field hockey, etc. which are all the "White" sports, the sports of the privileged. Here's the link for the nterview:
http://www.wncn.com/story/27992414/willingham-unc-had-shadow-curriculum
Aside from dating a couple of basketball players in college, I don't know a thing about college sports.  But I was an avid supporter of my student athletes when I taught high school, standing outside in the freezing cold collecting money during football games, and sitting under blankets with my equally frozen children, because the athletes wanted to see their teacher there.
But I stopped going to any high school games or offering my support of any kind when I was pressured to pass a kid along, or change a grade, or give the athlete another chance.  When the parent showed up in my trailer in tears, telling me their kid would have no future if they didn't pass my class, and that sports was all they had, I became angry.
I was angry that the parent had such a low opinion of their child's intellectual ability, of their academic potential, that they defaulted for them the only thing they could: the equivalent of slave labor.  They essentially sold their child to work for free, in scorching heat, for hours each day, for the white man.  After all, we know who has the money don't we? In college athletics, high school booster clubs, and professional sports.
Why else would Marshawn Lynch be fined hundreds of thousands of dollars by the NFL? The puppet had to perform, keep the stakeholders happy, the ones who wanted to see a sweaty athlete offer a verbal recap of violent plays just to feed the man's bloodthirsty power trip.
Just look at the owners of these NFL teams, as they stand (during the 4th quarter, with two minutes left on the clock) and you can see them making mental calculations in their heads of a win or a loss and what it will mean for their bottom line that week.
From high school sports all the way to the pros, the Black man (and others) continues to fall for a system of subjugation and control.
The "no other way out" mentality for minorities is visible in every area of modern society. Jim Caviezel starred in an inspiring film based on the true story of De la Salle high school and their winning streak.  I loved everything that Coach Ladouceur believed in and stood for, but the same one way ticket to modern slavery still rang true for the athletes of color.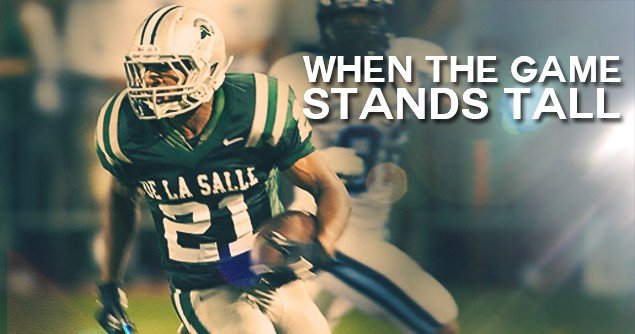 I can think of tons of movies and stories where athletics is the only answer for the minority students.
And yes, it's a great option for a young student, but why can't there be anything else? Why can't schools and parents push their children academically and say, "Just imagine son, you can get an academic scholarship and an athletic one. You're an athletic scholar. You can have it all." Unfortunately, what he hears more commonly is, "Well, he ain't got no daddy, so football all he got and he needs to get out there and get himself a scholarship to play ball." Junior hangs onto that instead.
Ms. Willingham has been walking a lonely road for the last four years, amid the scandal of phony classes and the easy way for UNC athletes. It's a road I am quite familiar with.  And I know many of the teachers in Chapel Hill High School were tutors for the athletes after they did their day job educating the privileged white kids. It is a corrupt and wicked system Ms. Willingham exposed at UNC and she paid a painful price for it, as I did in the very same town. But there's something to be said about having ethics. I found I slept better at night with my ethics than I would have without a soul.
How can this nation gain an equal footing racially when everywhere they look, white people see minorities still serving them, still living smaller, earning less, and being subjugated?
I told my partner that if every professional athlete in the NFL who is African-American refused to play ball on one Sunday during the riots after Mike Brown was executed, the nation would have been forced to deal with it, like a slap in the face.  After all, money talks.